Pure OFC Copper Conductors
– Oxygen free copper
– Large 10 Gauge Conductors
Shunyata Designed Molded Connectors
– Solid Brass Contacts (not folded metal)
– Nickel Plating for Corrosion Protection
– Superior Contact Grip
– Crimped and soldered connections
DTCD™ Tested
– Designed using the Shunyata Research DTCD™ Analyzer
– Ensures maximum instantaneous current capacity
Safety Assurance
– Continuity and Polarity Tests – by two technicians
– HiPOT Tests for each cable
– Cable spools tested for insulation breakdown @ 4,000 VAC
OVERVIEW
Please compare our power cables with the Component Selection Guide and Power Cord Comparison Chart.
APPLICATIONS
Ideally for use with:
– HYDRA power conditioners
– Power amplifiers
– High-Current Class A preamplifiers
– Other off-brand power distributors/conditioners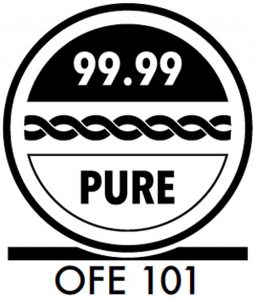 Shunyata Research uses only the highest purity of copper available for the production of its wire products. ‌‌OFE Alloy 101 or ‌‌C10100 is the highest grade of copper with a minimum 99.99% purity and a conductivity rating of 101% IACS. OFE stands for oxygen-free electrolytic and supersedes the term OFHC (oxygen-free high conductivity). ‌‌C10100 is the only grade of copper that comes with a written certification of purity. Certified by ASTM F68 ‌‌C10100.
STANDARD LENGTH
– 1.75M
 COLOR
– Dark blue w/ white stripe
CABLE DIAMETER
– 0.56 inches (14.2mm)
ELECTRICAL CONDUCTORS
– 10 Gauge
– OFC oxygen free copper

AVAILABLE CONNECTORS
– US: NEMA 5-20, NEMA 5-20R
– EU: Schuko EU1-16, EU1-16R

Call for custom terminations

MAXIMUM VOLTAGE
– Max Voltage (US): 90-240 VAC (connector dependent)
– Max Voltage (Asia): 90-240 VAC (connector dependent)
– Max Voltage (Euro): 240VAC (connector dependent)
– Maximum Instantaneous Voltage: 1250 VAC
CURRENT RATINGS
– Max continuous current: 20 Amps (connector dependent)
– Max instantaneous current: >200 Amps (800ms)
ELECTRICAL TESTS
– Polarity and continuity tests x2 (each cable tested)
– HiPOT Test: 2,000 VAC @ 5s (each cable tested)
– Insulation Breakdown Test: >4,000 VAC @ 2 minutes