The HYDRA TRITON v3 represents a major performance advancement over the previous generation TRITON v2.  It includes several technological advancements including the patented QR/BB™ technology introduced in our DENALI Series power distributors. New CCI™ v3 Filters improve component-to-component noise isolation performance.  The performance improvements of the TRITON v3 are extraordinary in terms of both sound and visuals.
HYDRA REFERENCE STACK
The HYDRA REFERENCE STACK is a modular two component system that represents our highest performing power distribution system. It consists of the TRITON and TYPHON QR. The TRITON provides power distribution for up to 8 components while the TYPHON QR extends its noise reduction capabilities.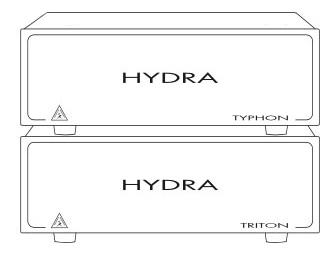 ISOLATION ZONES
An AC duplex consists of two outlets. Each duplex has a dedicated CCI™ filter that reduces noise from the components that are connected to it. For best performance, connect each component to a separate duplex if there are four components or less. Group the components by function, if there are more than four components. For example: Connect a DAC and transport to Zone 1, the preamp to Zone 2 and two amplifiers to Zone 3.
CGS GROUNDING SYSTEM
The TRITON v3 includes the exclusive Chassis Grounding System (CGS). This provides a central grounding point for all electronic components in the system. The CGS normalizes voltage differentials between component chassis' which may reduce performance-robbing ground loops. It also lowers chassis ground noise using Shunyata Research's patented NIC™ technology.  (Refer to the CGS Application Guide for more information).

‌DTCD® DESIGNED (‌Dynamic Transient Current Delivery)
The TRITON v3 was designed using the ‌DTCD® measurement analyzer. ‌DTCD® Analysis is a technique that measures instantaneous current through low impedance electrical conductors and contacts. We use it to optimize the design, specification and construction of parts and materials to ensure maximum current delivery performance.
‌CCI™ NOISE REDUCTION
Traditional power conditioners are designed to block noise coming in from outside the home but do not address the noise that is generated by the electronic component's themselves. In fact, most conditioners reflect noise back into other components connected to the power conditioner. ‌CCI™ (‌Component-to-Component Interference) is one of the most significant but often overlooked aspects to power system performance. The Shunyata Research designed ‌CCI™ filter consists of a proprietary multi-stage filter that reduces RFI and power supply generated interference.
‌NIC™ NOISE REDUCTION
‌NIC™ (Noise Isolation Chamber) is a patented technology that reduces high frequency power line noise. ‌NICs™ use a non-reactive ferroelectric substance that actually absorbs high frequency noise. This allows HYDRA power distributors to reduce noise without any of the negatives associated with conventional power conditioner designs.
– Patent US 8,658,892
‌CopperCONN™ OUTLETS
All commercial grade connectors and virtually all audiophile grade connectors are made from brass or bronze base metals. Some audiophile grade connectors may get a plating of nickel, silver, gold or rhodium that is only a few millionths of an inch thick. The Shunyata Research ‌CopperCONN™ is constructed using solid, high purity, oxygen free copper as the base metal with a ash coating to protect the copper from oxidation. The ‌CopperCONN™ outlets and connectors are designed to provide superior grip strength and contact integrity. This contributes to a measurable improvement in DTCD® (Dynamic Transient Current Delivery) performance and a correspondingly obvious difference in audible performance.
ZPP-DS Distribution Buss
The ZPP-DS significantly reduces the daisy-chained wires, terminal strips and terminal connectors found within common power conditioners. The power outlets, electrical terminals and main electrical buss are all uni ed into a single OFE copper buss that dramatically improves DTCD®.
‌VTX™ CONDUCTORS
Shunyata Research's exclusive ‌VTX™ conductors are virtual tubes. The core of the conductor is completely hollow, electrically, so that all of the current travels through the circumference of the conductor eliminating skin effects and random eddy currents through the conductor. The ‌VTX™ conductors are produced with OFE-C10100 copper which is the highest purity copper available.
HYDRAULIC ELECTROMAGNETIC BREAKER
Common power conditioners use fuses or thermal breakers for over current protection. The problem is that these devices cause voltage drops, increased contact impedance, thermal noise, excessive heat generation and current limiting effects when heavily loaded. The TRITON v3 uses a more advanced solution called a hydraulic electromagnetic breaker that can operate right up the to the maximum current level without the limitations of fuses or thermal breakers.
VIBRATION MANAGEMENT
The TRITON v3 chassis is made with heavy gauge steel and aluminum. Shunyata Research has developed exclusive vibration absorbing AC outlet gaskets and chassis dampeners that measurably reduce resonant vibration levels.
Shunyata Research's Grant Samuelsen and Caelin Gabriel explain the nature of audio components' interference and how Shunyata Research products offer a solution.
The Shunyata Research DPC-6 utilizes a unique design to reduce the high-frequency noise generated by digital systems, isolating them from all other components in an audio or video system.
The Shunyata Research DPC-6 is a passive approach to reducing noise from digital as well as analog audio components.
INPUT/OUTPUT VOLTAGE

– US Max Input: 125 V~

– Output: 90-125 V~ unregulated

– EU Max Input: 240 V~

– Output: 90-240 V~ unregulated

CURRENT RATINGS

– US: Max current: 20 Amps (continuous)

– EU: Max current: 16 Amps (continuous)

– Peak instantaneous current: >100 Amps @ 8.33ms

OVER CURRENT PROTECTION

– Hydraulic electromagnetic breaker

TRANSIENT SUPPRESSION

– NextGEN TMOV Transient Protection

– 40,000 Amps @ 8/50μs

SOCKETS / CONNECTORS

– INLET: IEC C20

– US: 8 NEMA 5-20R (3-pin, 20A)

– EU: 8 'Euro' CEE 7/3

– 4 Ground lugs

– 4 Ground lugs

WIRING SYSTEM

– 8 gauge VTX conductors

– OFE C10100 Copper (Certified ASTM F68)

– ZPP-DS Copper Buss System

– KPIP Processed

TECHNOLOGY

– NIC™ v2 (Patented)

– QR/BB™ Technology (Patented)

– 4 CCI™ v3 Noise Filters

– CGS Ground noise reduction system

NOISE SUPPRESSION

Line-outlet: > 24db (200 kHz – 30 MHz)

CONSTRUCTION

– 16 Gauge Powder Coated Steel Chassis

– Anodized Aluminum Faceplate

– Vibration Dampening (internal)

– AC Outlet Dampening Gaskets

– Shunyata's Isolation Footer

DIMENSIONS

– Width: 17.25 inches (43.8 cm)

– Depth: 17.125 inches (43.5 cm)

– Height: 6 inches (15.3 cm)

– Height w/opt SSF-50: 6.50″ (16.51 cm)

– Weight: 40 lbs (18.2 kg)