Shunyata Research's SR-Z1 outlets are built by Hubbell to Shunyata Research's exacting specifications. These outlets have large internal contacts that provide superior contact integrity for power cords. Most all ferrous metals have been removed from the SR-Z1 design, as have carbon materials, which Shunyata's independent tests have proven are detractive to optimal AC performance.
Additionally, the body of the outlet is oversized, providing improved internal cooling capacity when under heavy current loads. All SR-Z1 outlets undergo Shunyata's proprietary Alpha Cryogenic Process. This unique cryogenic treatment is performed on-site at Shunyata Research's factory, and has proven superior to any other cryogenic treatment type that Shunyata Research has tested. The SR-Z1 outlets provide a critical contribution toward the award-winning performance of Shunyata's power-distribution products.
---
AWARDS & REVIEWS
"Unless you've replaced the wall outlet that your system plugs into within the past few years, that outlet is probably long past due for replacement… upgrading to a heavy-duty, cryogenically processed outlet will remove major bottlenecks in both the outlet and its connections to the house wiring."
– John Marks, Stereophile
Read the full review here.
_____
"…you should visit Shunyata Research, as I recently did. Your view of cables will be altered forever."
– Jason Thorpe, SoundStage!
Read the full review here.
---
APPLICATIONS
Use it as a replacement for the wall outlets that provide power to your sound system or home cinema.
---
TECHNOLOGY
Cryogenically treated
Triple wipe solid brass contacts
Extra large body for improved cooling.
---
SPECIFICATIONS
Rated: 120VAC 15A or 20A
US NEMA: 5-15P
Over more than 2 decades, the reliability and durability of Shunyata Research products has become a legendary attribute of the brand.  Shunyata products are completely non-reactive and run cool to the touch.  They do not hum, vibrate, buzz, or generate heat and do not require any ventilation. Despite heavy-use applications in studios, medical labs, and home environments, Shunyata Research products maintain an almost zero failure rate.
In an era of products that are mass-produced, Shunyata Research invests in training career craftsman who build our products by hand at our factory in Poulsbo, Washington. The exceptional fit, finish, and attention to detail has become a hallmark trait of Shunyata Research products going back to its inception in 1998. Shunyata Research has been building some of the finest power and cable products in the industry for more than twenty years. The commitment to building durable products that are designed to last a lifetime elevates our products to the top of their class.
Safety and quality control is job one at Shunyata Research. Before anything leaves the factory, we test each and every product thoroughly and carefully for safety and quality. This explains the long-term success of Shunyata Research products in the professional recording, medical, scientific, and consumer industries. Shunyata Research's impeccable product safety and reliability track record for the past 23 years speaks for itself.
NO HUM — NO BUZZ — NO HEAT
LIMITED LIFETIME WARRANTY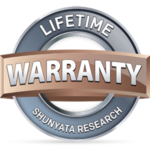 The unparalleled craftsmanship and build quality of Shunyata Research products is backed by a limited lifetime warranty. This demonstrates our commitment to building the finest products on the planet and providing exceptional customer support.
VALID ONLY IN THE US AND CANADA