Shunyata Research's SSF (Stainless Steel Feet) provide a significant upgrade in performance for all Shunyata power distributors – without the high cost. It is well known that power distributor performance can be improved by placing them on a shelf or dedicated amplifier stand and by using high-performance cones under them. While these tweaks are beneficial, they can be quite costly. We've developed the SSF to optimize power distributor performance without the high cost of accessories.
SSF feet are available in 2 sizes, SSF-38 & SSF-50.
Supplied as a pack of 4.
---
APPLICATIONS
Our SSF feet are milled from solid blocks of high-grade stainless steel and feature an energy absorbing polymer isolator. They make it possible to get great performance from your Shunyata power distributor without the need to place it on a dedicated shelf or amplifier stand.
The SSF feet are easy for the dealer or customer to install and replace the rubber isolation feet that come standard on some Shunyata power distributors.
SSF-38 feet are recommended for all Venom Line power distributors.
SSF-50 feet are recommended for all Reference and Performance Line power distributors.
Precision machined SSF fit all Reference, Performance & Venom line power distributors.
---
TECHNOLOGY
Stainless steel
Precision machined
Includes 4-8/32's screws for install
---
SPECIFICATIONS
SSF-38 height with dampening pad: .84" (2.13 cm)
SSF-38 diameter: 1.5″ (3.81 cm)
SSF-50 height with dampening pad: .84" (2.13 cm)
SSF-50 diameter: 2.0″ (5.08 cm)
SSF-38 & SSF-50 are compatible with all models from the current lines:
They are also compatible with most legacy models apart from the following list.
SSF-38 & SSF-50 are not compatible with following models:
Hydra 2 – all versions
Hydra 4 – all versions
Hydra 6 – all versions
Hydra Pro – all versions
Hydra-α – all versions
Over more than 2 decades, the reliability and durability of Shunyata Research products has become a legendary attribute of the brand.  Shunyata products are completely non-reactive and run cool to the touch.  They do not hum, vibrate, buzz, or generate heat and do not require any ventilation. Despite heavy-use applications in studios, medical labs, and home environments, Shunyata Research products maintain an almost zero failure rate.
In an era of products that are mass-produced, Shunyata Research invests in training career craftsman who build our products by hand at our factory in Poulsbo, Washington. The exceptional fit, finish, and attention to detail has become a hallmark trait of Shunyata Research products going back to its inception in 1998. Shunyata Research has been building some of the finest power and cable products in the industry for more than twenty years. The commitment to building durable products that are designed to last a lifetime elevates our products to the top of their class.
Safety and quality control is job one at Shunyata Research. Before anything leaves the factory, we test each and every product thoroughly and carefully for safety and quality. This explains the long-term success of Shunyata Research products in the professional recording, medical, scientific, and consumer industries. Shunyata Research's impeccable product safety and reliability track record for the past 23 years speaks for itself.
NO HUM — NO BUZZ — NO HEAT
LIMITED LIFETIME WARRANTY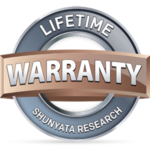 The unparalleled craftsmanship and build quality of Shunyata Research products is backed by a limited lifetime warranty. This demonstrates our commitment to building the finest products on the planet and providing exceptional customer support.
VALID ONLY IN THE US AND CANADA