ALPHA EF v1
NO LONGER AVAILABLE
Product is no longer available.
The Alpha EF uses the same 8 gauge VTX™ (hollow-core) conductors from the Alpha NR but is extremely flexible with its Tri-Flex, Extreme Flexibility design. The exclusive CopperCONN® EF-C15 allows connections to obstructed AC inlets. KPIP™ eliminates burn-in issues.
The Alpha EF power cord was created for applications that have a restricted area component or speaker IEC entry point, or those applications that benefit from the Alpha EF model's greater flexibility. The Alpha EF model uses a slender, solid-copper contact female connector that will fit into even the most narrow area component IEC opening. In terms of parts and material quality, the Alpha EF Model power cord is identical to its sibling Alpha NR power cord in every respect except two areas. Alpha EF power cords do not have the NR model's built-in filter networks, which require a round barrel IEC headshell. Alpha EF model power cords are also made without the hollow external tube used for the Alpha NR, making the EF model narrower and extremely flexible so that it can be routed around any tight corner. The Alpha EF offers exceptional performance when used with all electronics and speakers that require either greater flexibility in the body of the power cord, or a slender IEC connector to make an unobstructed connection to a component or speaker system
Examples of restricted area IEC electronics and speakers that would benefit from EF model power cords are some models of Vandersteen speaker, Devialet electronics, Pass Lab's Aleph models
General Application recommendations: Shunyata Research Hydra Denali power conditioners, Amplifiers with restricted area IEC, Pre-amplifiers, active speakers etc.
---
SPECIFICATIONS
Wire:
OFE 8 gauge, VTX™ geometry, Tri-flex.

Termination:
Connectors: EF-C15, C19; Plugs: US, EU, AU, UK and Swiss.
Over more than 2 decades, the reliability and durability of Shunyata Research products has become a legendary attribute of the brand.  Shunyata products are completely non-reactive and run cool to the touch.  They do not hum, vibrate, buzz, or generate heat and do not require any ventilation. Despite heavy-use applications in studios, medical labs, and home environments, Shunyata Research products maintain an almost zero failure rate.
In an era of products that are mass-produced, Shunyata Research invests in training career craftsman who build our products by hand at our factory in Poulsbo, Washington. The exceptional fit, finish, and attention to detail has become a hallmark trait of Shunyata Research products going back to its inception in 1998. Shunyata Research has been building some of the finest power and cable products in the industry for more than twenty years. The commitment to building durable products that are designed to last a lifetime elevates our products to the top of their class.
Safety and quality control is job one at Shunyata Research. Before anything leaves the factory, we test each and every product thoroughly and carefully for safety and quality. This explains the long-term success of Shunyata Research products in the professional recording, medical, scientific, and consumer industries. Shunyata Research's impeccable product safety and reliability track record for the past 23 years speaks for itself.
NO HUM — NO BUZZ — NO HEAT
LIMITED LIFETIME WARRANTY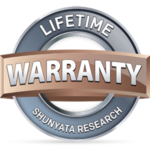 The unparalleled craftsmanship and build quality of Shunyata Research products is backed by a limited lifetime warranty. This demonstrates our commitment to building the finest products on the planet and providing exceptional customer support.
VALID ONLY IN THE US AND CANADA