ΞTRON® VIPER
NO LONGER AVAILABLE
Product is no longer available.
Previously, ΞTRON® technology was only available in Shunyata Research's reference level cables such as the ΞTRON® ANACONDA. Since Shunyata Research's inception, designer Caelin Gabriel's overriding goal has been to innovate technologies that offer dramatic performance advantages while lowering retail prices to make the products accessible to almost any budget.
With the ΞTRON® VIPER, Gabriel has created a product with a proven technology and made it available at an unprecedented low price. It is the least expensive power cord using ΞTRON® technology.
For anyone seeking state-of-the-art performance without the sticker-shock price-tag, the line starts here. Using Shunyata's DTCD® Analysis, the VIPER was designed to be compatible with all reference caliber recording or home electronics systems. The VIPER's 11 gauge conductors make it ideal for the high-current amplifiers while maintaining the delicate nuances required by reference grade source components.
---
IN A NUTSHELL
The ΞTRON® VIPER is also extremely compliant and flexible so that it can be used anywhere and fit into almost any tight space. Shunyata's extensive competitive testing has found that no comparable product, even at four-times its price, can compete with the ΞTRON® VIPER's transparency, dynamics and purity of tone.
ΞTRON® Conductors
– CDA-101
– Dual Coincident Concentric Conductors
– VTX Geometry
– Alpha Cryogenic Processed
– Learn More
DTCD® Tested
– Designed using the Shunyata Research DTCD® Analyzer
– Ensures maximum instantaneous current capacity
Safety Assurance
– Continuity and Polarity Tests – by two technicians
– HiPOT Tests for each cable
– Cable spools tested for insulation breakdown @ 4,000 VAC
Shunyata Craftsmanship
– Each cable built by a single Craftsman – not on an assembly line
– Each cable signed by its Craftsman
– Fit and finish that is the standard of the industry
---
APPLICATIONS
The ΞTRON® VIPER can be used throughout any audio/visual system as a complete performance-matched power cord system, or it can be paired with other Shunyata power cords to exactly match the performance and budget goals of any recording, film or combined entertainment system.
---
SPECIFICATIONS
Standard Length: 6.0 feet (1.75M)

Color: Blue

Cable Diameter: .58 inches (14.7mm)

Electrical Conductors:
– Shunyata ΞTRON®
⁃ 11 AWG Coincident Concentric Conductors
⁃ VTX Geometry
– CDA-101 Copper
⁃ Alpha Cryogenic Processed

Maximum Voltage:
– Max Voltage (US): 90-240 VAC (connector dependent)
– Max Voltage (Asia): 90-240 VAC (connector dependent)
– Max Voltage (Euro): 240VAC (connector dependent)
– Maximum Instantaneous Voltage: 1250 VAC

Available Connectors:
– US P20
– Euro CEE-7/7
– Australia
– Swiss

Call for custom terminations

Standard Connectors: 
– IEC-C15: Shunyata SR-ZC
– IEC-C19: Hubbell
– US NEMA P15: Shunyata SR-ZP

Current Ratings:
– Max continuous current: 20 Amps (connector dependent)
– Max instantaneous current: >200 Amps (800ms)

Electrical Tests:
– Polarity and continuity tests x2 (each cable tested)
– HiPOT Test: 2,000 VAC @ 5s (each cable tested)
– Insulation Breakdown Test: >4,000 VAC @ 2 minutes
Over more than 2 decades, the reliability and durability of Shunyata Research products has become a legendary attribute of the brand.  Shunyata products are completely non-reactive and run cool to the touch.  They do not hum, vibrate, buzz, or generate heat and do not require any ventilation. Despite heavy-use applications in studios, medical labs, and home environments, Shunyata Research products maintain an almost zero failure rate.
In an era of products that are mass-produced, Shunyata Research invests in training career craftsman who build our products by hand at our factory in Poulsbo, Washington. The exceptional fit, finish, and attention to detail has become a hallmark trait of Shunyata Research products going back to its inception in 1998. Shunyata Research has been building some of the finest power and cable products in the industry for more than twenty years. The commitment to building durable products that are designed to last a lifetime elevates our products to the top of their class.
Safety and quality control is job one at Shunyata Research. Before anything leaves the factory, we test each and every product thoroughly and carefully for safety and quality. This explains the long-term success of Shunyata Research products in the professional recording, medical, scientific, and consumer industries. Shunyata Research's impeccable product safety and reliability track record for the past 23 years speaks for itself.
NO HUM — NO BUZZ — NO HEAT
LIMITED LIFETIME WARRANTY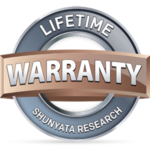 The unparalleled craftsmanship and build quality of Shunyata Research products is backed by a limited lifetime warranty. This demonstrates our commitment to building the finest products on the planet and providing exceptional customer support.
VALID ONLY IN THE US AND CANADA