VENOM DIGITAL
NO LONGER AVAILABLE
Product is no longer available.
Shunyata Research developed the VENOM DIGITAL power cord to address the specific noise challenges digital electronics present to the performance of digital recording, video and sound systems.
Unlike other power cords that claim to address noise, the VENOM DIGITAL PC measurably lowers the power line noise emissions from digital components (see graphs). This measurable difference results in improvements in clarity, dynamics and resolution in any entertainment or recording system.
---
IN A NUTSHELL
The VENOM DIGITAL power cord contains a unique, noise canceling circuit that filters ultra-high frequency noise commonly associated with digital electronic power supplies. The VENOM DIGITAL uses the same conductors as the award winning VENOM-3 power cord but terminated with audiophile grade connectors.
The VENOM DIGITAL power cord is an important link in Shunyata Research's line of VENOM SERIES power cords. Each component in Shunyata Research's VENOM Power System is designed to serve the unique current or noise demands of each component by maximizing peak-current delivery (DTCD®) and minimizing the noise shared between electronics — component-to-component interference (CCI™). The VENOM DIGITAL serves its purpose by reducing the output of high-frequency noise and preventing this noise from affecting the performance of other components. The VENOM DIGITAL has extremely broad application potential and will perform similarly in all video systems as well as audio.
Pure OFC Copper Conductors
– Oxygen free copper
– Large 12 Gauge Conductors
DTCD® Tested
– Designed using the Shunyata Research DTCD® Analyzer
– Ensures maximum instantaneous current capacity
Safety Assurance
– Continuity and Polarity Tests – by two technicians
– HiPOT Tests for each cable
– Cable spools tested for insulation breakdown @ 4,000 VAC
Test Equipment
– Fluke Model 43 Power Analyzer
– Incandescent lamp

– Paper shredder
– Belden power cord
– ΞTRON™ α DIGITAL power cord
Test Procedure
– The DUT (power cord) is plugged into a standard wall outlet.

– The lamp is connected to the IEC end of power cord and acts as a load device.
– The power analyzer leads are connected across Hot and Neutral at the exit of the power cord IEC.
– The paper shredder is plugged into the second outlet of the duplex where the DUT is connected.
– The shredder is turned on and the AC waveform is captured by the Fluke power analyzer.
– This test is repeated for each power cord.
---
APPLICATIONS
The VENOM DIGITAL has extremely broad application potential and will perform consistently well in all video systems as well as audio. Recommendations for application include all digital and video sources, transports, CD players, DACs, routers, servers, processors, computers, projectors, digital clocks, up-samplers, all TV's and Plasmas, scalers. In short, any component that has a digital component within its operation.
---
SPECIFICATIONS
Standard Length: 
– US: 1.5M
– EU: 1.75M
– UK: 1.75M

Color: Blue w/ white stripe

Cable Diameter: 0.45 inches (11.4mm)

Electrical Conductors: OFC 12 AWG

Available Connectors: 
– US P15 Molded
– EU EURO CEE 7/7 Molded
– UK BS 1363
– IEC C15 Molded
– IEC C19 Molded

Call for custom terminations

Maximum Voltage:
– Max Voltage (US): 90-240 VAC (connector dependent)
– Max Voltage (Asia): 90-240 VAC (connector dependent)
– Max Voltage (Euro): 240VAC (connector dependent)
– Maximum Instantaneous Voltage: 1250 VAC

Current Ratings: 
– Max continuous current: 20 Amps (connector dependent)
– Max instantaneous current: >200 Amps (800ms)

Electrical Tests: 
– Polarity and continuity tests x2 (each cable tested)
– HiPOT Test: 2,000 VAC @ 5s (each cable tested)
– Insulation Breakdown Test: >4,000 VAC @ 2 minutes
Over more than 2 decades, the reliability and durability of Shunyata Research products has become a legendary attribute of the brand.  Shunyata products are completely non-reactive and run cool to the touch.  They do not hum, vibrate, buzz, or generate heat and do not require any ventilation. Despite heavy-use applications in studios, medical labs, and home environments, Shunyata Research products maintain an almost zero failure rate.
In an era of products that are mass-produced, Shunyata Research invests in training career craftsman who build our products by hand at our factory in Poulsbo, Washington. The exceptional fit, finish, and attention to detail has become a hallmark trait of Shunyata Research products going back to its inception in 1998. Shunyata Research has been building some of the finest power and cable products in the industry for more than twenty years. The commitment to building durable products that are designed to last a lifetime elevates our products to the top of their class.
Safety and quality control is job one at Shunyata Research. Before anything leaves the factory, we test each and every product thoroughly and carefully for safety and quality. This explains the long-term success of Shunyata Research products in the professional recording, medical, scientific, and consumer industries. Shunyata Research's impeccable product safety and reliability track record for the past 23 years speaks for itself.
NO HUM — NO BUZZ — NO HEAT
LIMITED LIFETIME WARRANTY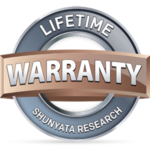 The unparalleled craftsmanship and build quality of Shunyata Research products is backed by a limited lifetime warranty. This demonstrates our commitment to building the finest products on the planet and providing exceptional customer support.
VALID ONLY IN THE US AND CANADA