HYDRA CYCLOPS
NO LONGER AVAILABLE
Product is no longer available.
HYDRA CYCLOPS is our reference level, two outlet, high-current power distributor. You can consider the CYCLOPS a "hot rodded" TRITON designed to deliver massive amounts of unlimited current to high power amplifiers and video projectors.
The CYCLOPS was designed using Shunyata Research's DTCD® Analyzer to optimize instantaneous current delivery. There are no current breakers, fuses or surge protection which further streamlines its dedicated purpose to optimize the performance of the world's finest amplifiers, projectors or two-component systems.
---
IN A NUTSHELL
HYDRA CYCLOPS uses technologies and materials developed for Shunyata Research's award-winning TRITON, including the exclusive and patented NICs™ noise reduction technology. If you have two or more dedicated lines, the CYCLOPS may be used to power the amplifiers while a TRITON v2 can be used to power all of the front-end equipment.
---
APPLICATIONS
HYDRA CYCLOPS is primarily designed for very high current components like high power amplifiers and large video projectors. It may also be used for power line performance enhancement for simple audio systems that only have two components.
HYDRA CYCLOPS is never the limiting factor in performance since it can conduct current far beyond the capability of standard 15-20 Amp dedicated lines.
Power Cords
The CYCLOPS power cord that plugs into the AC wall outlet is critical to extracting the maximum performance from the CYCLOPS. This power cord should be at least the equal or better than any cord used to connect from the CYCLOPS to the amplifiers.
List of recommended power cords in order of descending performance and price:
⁃ ΞTRON® SIGMA HC
⁃ ΞTRON® ALPHA HC
⁃ VENOM HC
– Standard 20A Cord
Shelves & Platforms
All HYDRA models should be supported on a hard-surface shelf or platform — off of carpet and the floor. The use of high-performance spikes or cones or other relatively hard type material are recommended for best performance. The Shunyata SSF (stainless steel feet) are a significant upgrade for a reasonable price often outperforming some very expensive footers.
Alternatives
If there is only a single component to connect you may want to consider the VENOM AMP-1. It includes the Gemini Module that provides surge protection and noise reduction.
---
SPECIFICATIONS
Maximum Voltage:
– Max Voltage (US): 125VAC unregulated
– Max Voltage (Asia): 230VAC unregulated
– Max Voltage (Euro): 240VAC unregulated

Outlets:
– US Version: NEMA 5-20R
– AS Version: NEMA 5-20R
– EU Version: EU1-16R (No V2 Available)

Current Ratings:
– Max continuous current: 20 Amps (US)
– Max continuous current: 16 Amps (EU, AU, UK)
– Peak instantaneous current: >200 Amps @ 800ms

Input Connectors:
– IEC-20
NOTE: The Cyclops requires a power cord with a C19 connector which is not included with the product.

Noise Reduction Technology:
– NIC™ (Noise Isolation Chambers)
– Gemini Surge/Noise Module (only US and AS)

Wiring / Buss System:
– Dual OFE 12-Gauge Conductors (US/AS)
– Dual 3.3 mm2 OFE Wire
– OFE C10100 Copper
– Shunyata's Computer-controlled Cryogenic Process

Over Current Protection: None

Construction:
– 16 Gauge Powder Coated Steel Chassis
– Stainless Steel Top Faceplate
– Vibration Dampening (chassis)
– AC Outlet Dampening Gaskets
– Shunyata's Isolation Footer

Dimensions:
– Width: 9.50 inches (24.1 cm)
– Depth: 13.5 inches (34.3 cm)
– Height: 4.00 inches (10.2 cm)
– Weight: 10 lbs (4.54 kg)
Over more than 2 decades, the reliability and durability of Shunyata Research products has become a legendary attribute of the brand.  Shunyata products are completely non-reactive and run cool to the touch.  They do not hum, vibrate, buzz, or generate heat and do not require any ventilation. Despite heavy-use applications in studios, medical labs, and home environments, Shunyata Research products maintain an almost zero failure rate.
In an era of products that are mass-produced, Shunyata Research invests in training career craftsman who build our products by hand at our factory in Poulsbo, Washington. The exceptional fit, finish, and attention to detail has become a hallmark trait of Shunyata Research products going back to its inception in 1998. Shunyata Research has been building some of the finest power and cable products in the industry for more than twenty years. The commitment to building durable products that are designed to last a lifetime elevates our products to the top of their class.
Safety and quality control is job one at Shunyata Research. Before anything leaves the factory, we test each and every product thoroughly and carefully for safety and quality. This explains the long-term success of Shunyata Research products in the professional recording, medical, scientific, and consumer industries. Shunyata Research's impeccable product safety and reliability track record for the past 23 years speaks for itself.
NO HUM — NO BUZZ — NO HEAT
LIMITED LIFETIME WARRANTY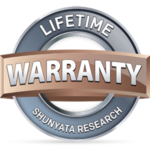 The unparalleled craftsmanship and build quality of Shunyata Research products is backed by a limited lifetime warranty. This demonstrates our commitment to building the finest products on the planet and providing exceptional customer support.
VALID ONLY IN THE US AND CANADA