VENOM MPC-12A
NO LONGER AVAILABLE
Product is no longer available.
The VENOM MPC-12A is ideal for home theater systems that have multiple components. Its low-profile design allows easy access to the connections which simplifies installation and cable routing. The MPC-12A is similar in function to our traditional power distributors in that it is intended for audio and video systems that are not specifically computer based audio systems. The MPC-12A has two independent zones of 6 outlets each, for a total of 12 outlets. This allows for a segregation of analog and digital components or between amplifiers and source components.
The "A" designation stands for audio although it can also be used for all audio and video applications.
The MPC-12A is similar in function to the HYDRA Series power distributors through the use of passive design-techniques and superior parts engineering for unrestricted instantaneous current delivery, or DTCD®.
The MPC-12A expands upon the award winning design of VENOM PS8 with expanded 12 outlet capacity; dual zone isolation; and built-in noise reduction and transient protection. At the core of the MPC-12A is the latest generation of CCI™ (Component-to-Component Interference) filter system. These powerful multi-band noise-filters provide exceptional isolation for electronics without interfering with DTCD® (Dynamic Transient Current Delivery). Each zone is independently isolated with a dedicated CCI v3 noise filter.
Dual 12 gauge (9 gauge aggregate) OFE copper conductors provide superior DTCD® performance, assuring unrestricted power delivery. Noise reduction and transient protection are provided by Shunyata Research''s Trident module that has had a near zero failure rate since its inception. Fault detection circuitry is built-in with an LED indicator.
Putting these elements together in a 12 outlet, form-follows-function package makes the MPC-12A an incredible value.
For computer-based, purely digital, video or multi-media systems, the VENOM MPC-12C may be provide better isolation of the digital and analog components.
---
APPLICATIONS
FLOOR MOUNT – TOP ACCESS
The MPC-12 Series was designed with home theater systems in mind.  They are ideal for installation behind a cabinet or rack system.  All the outlets face upward allowing ease of access and the shallow depth allows the cabinetry to be located close to the wall.
HIGH CURRENT CAPABILITY
The MPC-12 Series distributors are designed using DTCD® analysis and carry a 20-Amp continuous rating for virtually unlimited power delivery capability allowing them to power entire systems including high powered amplifiers. The non current-limiting electromagnetic breakers combined with massive 8 gauge internal wiring maximizes instantaneous current delivery, dramatically improving dynamic contrast and bass impact.
---
TECHNOLOGY
‌DTCD® DESIGN
‌DTCD® Analysis is a technique that measures instantaneous current through low impedance electrical conductors and contacts.  We use it to optimize the design, specification and construction of parts and materials to ensure maximum current delivery performance in our power distributors and power cables.
‌CCI™ (‌COMPONENT-TO-COMPONENT ISOLATION)
‌CCI™ v3 modules isolate power line noise from one component to another component. These new ‌CCI™ modules were originally developed in our military, scientific and medical imaging research programs. They are currently being used to great effect in Electrophysiology heart surgery.  As used in the MPC-12, noise may be reduced more than -24dB from 100 KHz to 10 MHz!
HUBBELL® OUTLETS
The A.C. outlets are the finest that HUBBELL produces.  The contacts are made from high quality brass and have a patented triple-wipe system for superior grip and electrical connectivity.
ELECTROMAGNETIC BREAKER
Common power conditioners use fuses or thermal breakers for over current protection. When under heavy load, these devices cause voltage drops, increased contact impedance, thermal noise, excessive heat generation and current limiting effects.  Shunyata Research power distributors use a far more advanced solution called hydraulic electromagnetic breakers. They operate right up the to their maximum current rating without the limitations of fuses or thermal breakers.
HIGH-CURRENT A.C. INLET
Many 'so called' audiophile grade power conditioners actually use a common computer spec C14 power inlet.  It has very small electrical contacts and has a notoriously feeble power cable grip.  And it is only rated to a maximum current of 15 amps.  Absurd!  The MPC-12 Series is fitted with a HUBBELL IEC C20 inlet that is rated at 20-Amps of current.  It has massive electrical contacts and the grip strength is light years beyond the common C14 grade inlet.  Further it is treated Shunyata Research's Cryogenics International computer controlled cryogenics facility.
TRIDENT MODULE
The TRIDENT Module provides a massive 40,000 amps of surge protection, transient protection and noise reduction in a single compact module.  The noise reduction circuitry is similar in design to the MPDA™ and CCI™ noise reduction filters.  It also includes a fault detection circuitry and and LED status indicator that monitors its operation.  The module was designed to be field replaceable with only two terminal connections.
‌ArNi® CONDUCTORS
The VENOM MPC-12 is wired with Shunyata Research's ‌ArNi® conductors. These conductors are "hollow tube" VTX™ designs that are made from pure OFE C10100 copper and then treated with the KPIP™ Processor. Shunyata Research uses only the highest purity of copper available for the production of its wire products.  OFE Alloy 101 or C10100 is the highest grade of copper with a minimum 99.99% purity and a conductivity rating of 101% IACS.
VIBRATION CONTROL
Mechanical vibration can be very destructive to system performance. The MPC-12 was designed from its inception to include advanced forms of vibration control that improve the recovery of subtle musical detail and nuance. All chassis panels and internal structure are treated with vibration dampening panels. Each outlet is isolated from the chassis with a vibration dampening gasket that reduces vibration conducted through the AC cables. All internal modules, filters and electronics are encapsulated in a vibration absorbent compound.
‌KPIP™ "BLACKBIRD" PROCESSOR
Each MPC-12 is treated with Shunyata Research's proprietary ‌KPIP™ Processor. The '‌Kinetic Phase Inversion Process' dramatically reduces burn-in time and significantly improves sonic performance.
CRYOGENIC TREATMENT
Many of the electrical parts in the MPC-12 are treated in Shunyata Research's own advanced computer controlled cryogenics lab.
---
SPECIFICATIONS
Input / Output Voltage:
– US Max Input: 125 V~
– Output: 90-125 V~ unregulated

Over Current Protection: Hydraulic electromagnetic breaker

Sockets / Connectors: 
– INLET: IEC C20
– 12 NEMA 5-20R (3-pin, 20A)

Technology:
– Trident Module
– 2 CCI™ v3 Noise Filters

Construction:
– All aluminum chassis
– Brushed aluminum, anodized faceplate
– Vibration dampening (chassis)
– AC outlet dampening gaskets
– Shunyata's 50mm stainless steel footers

Current Ratings:
– Max current: 20 Amps (continuous)
– Peak instantaneous current: >100 Amps @ 8.33ms

Transient Suppression:
– NextGEN TMOV Transient Protection
– 40,000 Amps @ 8/50μs

Noise Suppression:
– Inlet to Zone A: > 25db (100 kHz – 30 MHz)
– Inlet to Zone B: 25db (100 kHz – 30 MHz)

Wiring System:
– Dual 12 gauge VTX™ conductors
– OFE C10100 Copper (Certified ASTM F68)
– KPIP™ Processed

Dimensions:
– Length: 16.4
– Width: 6.1
– Height: 4 .4
– Weight: 9 lbs
Over more than 2 decades, the reliability and durability of Shunyata Research products has become a legendary attribute of the brand.  Shunyata products are completely non-reactive and run cool to the touch.  They do not hum, vibrate, buzz, or generate heat and do not require any ventilation. Despite heavy-use applications in studios, medical labs, and home environments, Shunyata Research products maintain an almost zero failure rate.
In an era of products that are mass-produced, Shunyata Research invests in training career craftsman who build our products by hand at our factory in Poulsbo, Washington. The exceptional fit, finish, and attention to detail has become a hallmark trait of Shunyata Research products going back to its inception in 1998. Shunyata Research has been building some of the finest power and cable products in the industry for more than twenty years. The commitment to building durable products that are designed to last a lifetime elevates our products to the top of their class.
Safety and quality control is job one at Shunyata Research. Before anything leaves the factory, we test each and every product thoroughly and carefully for safety and quality. This explains the long-term success of Shunyata Research products in the professional recording, medical, scientific, and consumer industries. Shunyata Research's impeccable product safety and reliability track record for the past 23 years speaks for itself.
NO HUM — NO BUZZ — NO HEAT
LIMITED LIFETIME WARRANTY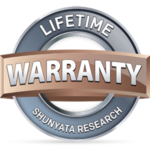 The unparalleled craftsmanship and build quality of Shunyata Research products is backed by a limited lifetime warranty. This demonstrates our commitment to building the finest products on the planet and providing exceptional customer support.
VALID ONLY IN THE US AND CANADA