VENOM PS8
NO LONGER AVAILABLE
Product is no longer available.
Entertainment systems and new generation home electronics deserve something more than cheap computer power-strips – transformers that hum and buzz – and overly complex, back-breaking power conditioners. The PS8 is an eight-outlet tour-de-force of custom parts engineering aimed at maximizing the performance of home-entertainment systems! The VENOM PS8 combined with the VENOM DEFENDER delivers an unprecedented level of power and protection designed to fit behind a rack or in tight spaces.
Finally, a simple, quality built, no-compromise, high-current power-distributor at an affordable price! A Limited Lifetime Warranty (US & Canada only) speaks volumes to Shunyata Research's confidence in its least expensive power distributor!
VENOM PS8 is designed to be a high-performance alternative to common mass-market power products typically associated with lack-luster performance, cheap parts and flimsy enclosures. All dedicated home entertainment systems represent a significant investment, deserving of a reference quality power distributor; one that allows the system to perform at maximum capability without costing a small fortune. The PS8 is that product.
The VENOM PS8 is the embodiment of designer Caelin Gabriel's never ending quest to engineer products that are not only peerless in performance but also possess exceptional build quality and value. The same premium parts and hand- craftsmanship that have earned the HYDRA Series products many awards and professional endorsements are also used in the PS8 — with the most significant difference being the PS8's extraordinarily affordable price!
---
APPLICATIONS
MEDIA SYSTEMS AND HOME THEATERS
The VENOM PS8's generous eight outlets provides the perfect solution for complex home entertainment and media systems. The exceptional current capacity and power rating ensures unfettered performance even when high-current amplifiers are used. The narrow profile (less than 4 inches) of the PS8 allows it to be placed behind a cabinet without pulling the cabinet out from the wall. All of the power cords plug-in from the top of the unit for easy access.
POWER SYSTEM EXPANSION
Many people already own a reference grade power conditioner like the HYDRA TRITON or DENALI but need more outlets to power accessories. They recognize that the quality of power distribution dramatically affects audio and video performance. A reference grade distributor, like the VENOM PS8, is perfect for expanded capacity.
THE PURIST APPROACH
Many audiophile purists appreciate a straightforward, high quality approach to power distribution but don't want complex filtration and surge circuits. Pure high-current performance provided by exceptional parts like cryogenic power conductors and an expensive hydraulic electromagnetic breaker are appreciated. The VENOM PS8 is the product you have been seeking!
---
PERFORMANCE ENHANCEMENTS
Higher levels of performance are available with optional accessories and high performance power cords.
Transient protection and noise reduction can be added with the exclusive VENOM DEFENDER
38mm SSF (stainless steel feet) can improve vibration isolation.
---
TECHNOLOGY
‌DTCD® DESIGN
‌DTCD® Analysis is a technique that measures instantaneous current through low impedance electrical conductors and contacts.  We use it to optimize the design, specification and construction of parts and materials to ensure maximum current delivery performance in our power distributors and power cables.
SUPERIOR A.C. OUTLET
From the outside, all A.C. outlets look similar other than the color, but once you look inside there are dramatic differences that are easy to define. Let's look inside to see if there are any differences.The common sample on the right is typical of what is used in new home construction and also of what is used in high-end power conditioners. The outlet on the left is what we use in the VENOM PS8.
There are several important differences that you can see right away. First is that the common outlet is smaller. The internal current carrying contacts of the PS8 are much larger. Notice the enlarged view that shows where the A.C. plug's contact makes electrical contact. The common outlet makes contact on a thin knifes edge. This can arc and develop carbon deposits over time, decreasing electrical integrity. Now look at the PS8 outlet. It has a triple-wipe contact system that has broad contact areas that grab the plug from three different sides.
HIGH-CURRENT A.C. INLET
The A.C. inlet is another part that is critical to the overall power distributor performance. Think about it — all the electrical current for the distributor must pass through this part. The contacts are very important to performance and DTCD. Let's take a look at the difference between the ubiquitous IEC C15 inlet that is used in most electronic components and in 90% of all power conditioners.
First notice the size of the contacts, quite small on the C15. The C19 is much larger because it was specifically designed for industrial use and to carry a rating of 20-Amps continuous. The C15 connects to the A.C. wires using push-on terminals. These are crimped to the wires and slide on the contact. By comparison the C19 allows the wires to be inserted directly into the inlet. The opening of the C19 contact also allows the use of much larger gauge wiring. The contacts on the C19 are made from high quality brass while those on the C15 are nickel or zinc plated steel.
MASSIVE INTERNAL WIRING
The internal wiring is absolutely critical to the performance of a power distributor. The wiring will determine the overall current carrying capacity of the unit and it will dramatically affect the perceived audio performance.
EXCEPTIONAL GROUNDING SYSTEM
The electrical grounding in a high-end audio system is very important. Grounds can determine if the audio system is silent or plagued with noise and hum.
You can see that the common outlet ground is made from zinc-plated steel while the PS8 outlet is made with a massive solid brass back-strap. The ground to your audio component must pass through this grounding strap. Which would you choose?
ELECTROMAGNETIC BREAKER
Common power conditioners use fuses or thermal breakers for over current protection. When under heavy load, these devices cause voltage drops, increased contact impedance, thermal noise, excessive heat generation and current limiting effects.  Shunyata Research power distributors use a far more advanced solution called hydraulic electromagnetic breakers. They operate right up the to their maximum current rating without the limitations of fuses or thermal breakers.
OFE CONDUCTORS
Shunyata Research uses only the highest purity of copper available for the production of its wire products.  OFE Alloy 101 or C10100 is the highest grade of copper with a minimum 99.99% purity and a conductivity rating of 101% IACS.
VIBRATION CONTROL
Mechanical vibration can be very destructive to system performance. The PS8 was designed from its inception to include advanced forms of vibration control that improve the recovery of subtle musical detail and nuance. All chassis panels and internal structure are treated with vibration dampening panels. Each outlet is isolated from the chassis with a vibration dampening gasket that reduces vibration conducted through the AC cables. All internal modules, filters and electronics are encapsulated in a vibration absorbent compound.
CRYOGENIC TREATMENT
Many of the electrical parts in the PS8 are treated in Shunyata Research's own advanced computer controlled cryogenics lab.
---
SPECIFICATIONS
Input / Output Voltage: 
– US Max Input: 125 V~
– Output: 90-125 V~ unregulated

Over Current Protection: 
– Electromagnetic breaker

Sockets / Connectors: 
– INLET: IEC C20
– OUTLETS: 8 NEMA 5-20R (3-pin, 20A)

Construction:
– 16 gauge powder coated steel
– Brushed stainless steel top-plate
– Vibration dampening (chassis)
– AC outlet dampening gaskets
– Shunyata's Isolation Footers

Current Ratings: 
– US: Max current: 20 Amps (continuous)
– Peak instantaneous current: >100 Amps @ 8.33ms

Transient Suppression: N/A

Wiring System: 
– Dual 12 gauge conductors
– OFE C10100 Copper (Certified ASTM F68)

Dimensions:
– Length: 20.5 inches
– Width: 3.8 inches
– Height: 3.3 inches
– Height (w/SSF-38): 4.25 inches
– Weight: 6.2 lbs
Over more than 2 decades, the reliability and durability of Shunyata Research products has become a legendary attribute of the brand.  Shunyata products are completely non-reactive and run cool to the touch.  They do not hum, vibrate, buzz, or generate heat and do not require any ventilation. Despite heavy-use applications in studios, medical labs, and home environments, Shunyata Research products maintain an almost zero failure rate.
In an era of products that are mass-produced, Shunyata Research invests in training career craftsman who build our products by hand at our factory in Poulsbo, Washington. The exceptional fit, finish, and attention to detail has become a hallmark trait of Shunyata Research products going back to its inception in 1998. Shunyata Research has been building some of the finest power and cable products in the industry for more than twenty years. The commitment to building durable products that are designed to last a lifetime elevates our products to the top of their class.
Safety and quality control is job one at Shunyata Research. Before anything leaves the factory, we test each and every product thoroughly and carefully for safety and quality. This explains the long-term success of Shunyata Research products in the professional recording, medical, scientific, and consumer industries. Shunyata Research's impeccable product safety and reliability track record for the past 23 years speaks for itself.
NO HUM — NO BUZZ — NO HEAT
LIMITED LIFETIME WARRANTY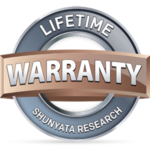 The unparalleled craftsmanship and build quality of Shunyata Research products is backed by a limited lifetime warranty. This demonstrates our commitment to building the finest products on the planet and providing exceptional customer support.
VALID ONLY IN THE US AND CANADA