We are pleased to announce the HYDRA upgrade program. The factory upgrade represents a dramatic performance improvement that far exceeds the capabilities of the original versions in every area related to sound and visual performance.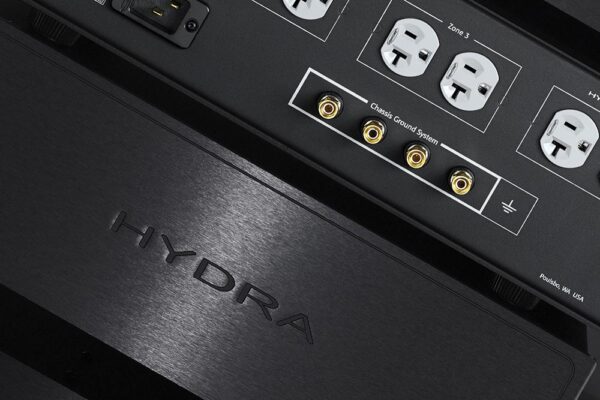 What products are eligible for the upgrade?
All US versions of HYDRA Models listed with a valid serial number and prior warranty registration are eligible for the upgrade. If you did not send in a warranty registration card, contact Customer Service to register your unit. At this time we are not accepting EU or AS version HYDRA's for upgrade.
How long does the upgrade take?
The upgrade program requires a scheduled date for the upgrade to ensure that the service can be performed in a timely manner. Our expectation is that each unit will be fully upgraded and scheduled for return shipment within 3-4 days.
Upgrade Cost
HYDRA TALOS v2 US$1300
HYDRA AV v2 US$1600
HYDRA CYCLOPS v2 US$600
HYDRA DPC-6 v2 US$1000
This includes all parts, materials and labor.
FOB Shunyata Research, Poulsbo, WA.
Payment may be made through VISA/MASTER CARD.
Schedule an Upgrade
We will NOT accept unscheduled upgrades.
All upgrades are scheduled in advance through our Customer Service Department. Email a request to cservice@shunyata.com or call during business hours 360.598.9935. You will need the following information:
Customer Name
Customer Billing Address
Customer Shipping Address
Serial number of unit
You will receive an RMA number and a scheduled date for the upgrade. You should arrange shipping such that the unit arrives at our location on or before the scheduled date.
Shipping
PACKING MATERIALS
The unit should be shipped in its original box and ALL of the internal packing materials. Failure to ship the unit properly may result in damage to the unit and loss of warranty coverage. If you need new packing materials contact Customer Service and we will send you a new box. New packing materials cost US$40.00.
SHIPMENT INFORMATION
The customer is responsible for all costs associated with the shipment FOB Shunyata Research Poulsbo, WA.
The customer should insure the unit for it's full retail value.
Shunyata Research
Attn: Customer Service Department
26273 Twelve Trees Ln NW Suite D
Poulsbo WA 98370
Contact Information Email: cservice@shunyata.com Phone: 360.598.9935
Warranty
All HYDRA upgrades are covered by a Limited Lifetime Warranty.
Upgrade Package Details
HYDRA TALOS v2: $1300 USD
3 CopperCONN™ Outlets
OFE Copper ZPP-DS™ Buss Bars
3 CCI™ Modules
3 Outlet Isolation Gaskets Chassis Dampening Retrofit Shunyata Isolation Footer (if necessary)
HYDRA AV v2: $1600 USD
4 CopperCONN™ Outlets
OFE Copper ZPP-DS™ Buss Bars
1 CCI™ Module
4 Outlet Isolation Gaskets
Chassis Dampening Retrofit
Shunyata Isolation Footer (if necessary)
HYDRA DPC-6 v2: $1000 USD
3 CopperCONN™ Outlets
3 CCI™ Modules
3 Outlet Isolation Gaskets
Chassis Dampening Retrofit
HYDRA CYCLOPS v2: $600 USD
1 CopperCONN™ Outlet
OFE Alloy 101 Dual 12 gauge wire
1 CCI™ Modules
1 Outlet Isolation Gaskets
Chassis Dampening Retrofit
Shunyata Isolation Footer (if necessary)