HYDRA TYPHON QR
NO LONGER AVAILABLE
Product is no longer available.
ADVANCING STATE-OF-THE-ART
HYDRA TYPHON QR represents a dramatic advance in the engineering, design and performance of the most ingeniously conceived product of its kind, the original HYDRA TYPHON. Designer Caelin Gabriel has added significant technology and performance advances to the already massive, patented technology within the original HYDRA TYPHON.
Shunyata Research's HYDRA TRITON power distributor was originally conceived as a reference-caliber power distributor. As the project evolved, the Triton's size and cost escalated beyond practical limits. The file-cabinet sized prototype was temporarily shelved while options were considered to reduce the unit's massive size and weight. Designer Caelin Gabriel created a solution by dividing the original design into two separate units. The first chassis, dubbed Triton, served as the power distributor with eight outlets. The second chassis, dubbed Typhon, was identical in size and served as a dedicated pre-filter for the Triton. This design completed Gabriel's original vision for the ultimate audio performance power distributor.
Since its release in 2011, the Hydra Triton and Typhon became the most critically and professionally endorsed product of its kind, receiving awards and accolades from recording professionals and the world's top magazines. Pushing the boundaries of performance through design innovation and patented science has always separated Shunyata Research product designs from others in their category.
HYDRA TYPHON QR represents an advancement in technology and performance of the original Hydra Typhon.  Technologies derived from the HYDRA DENALI Series have transformed medical-imaging performance in the high-tech field of electrophysiology. Gabriel has applied these and the knowledge gained in his 25 years of research and development into the new Triton v3 and Typhon QR products. The Hydra Typhon QR includes the QR/BB technology pioneered in the Hydra Denali.  However, the Typhon NICs and QR/BBs are nine times the volume of those used in the Denali.
Subjective impressions of the Typhon's performance include enhanced spatial and low-level detail information. Many reviewers report that it recovers obscured recorded information, unintelligible words, blurred instrumental passages or ambient information that may be buried in the noise floor. Although the Triton has been critically acknowledged for reproducing state-of-the-art scale and micro-dynamic contrasts in sound, the Typhon further solidifies instruments, voices and images as vivid three dimensional characters within the recording. Some report that it expands the depth of field, perceived volume of recorded space and spatial information to the extent that it perfectly recreates the venue in which the performance was recorded.
---
APPLICATIONS
THE HYDRA REFERENCE STACK
The HYDRA REFERENCE STACK is a modular two component system that represents our highest performing power distribution system.  It consists of the TRITON v3 and TYPHON QR.  The Triton provides power distribution for 8 components while the Typhon extends the noise reduction capabilities of the TRITON.  The Triton may be used as a standalone power distributor.  The Typhon is optional and may be added later to extend the capabilities of the power system.
ALTERNATIVE TYPHON TO AMPLIFIER APPLICATION
The Typhon QR may also be used as a stand-alone unit to provide power to amplifiers.  No Triton is required for this application.  Simply plug the Typhon directly into the AC wall outlet.  Then use the Typhon Umbilical cable to connect to the amplifier.  This application requires a custom termination of the Typhon Umbilical (either a C15 or C19 connector) to match the IEC inlet of the specific amplifier. (Consult with your audio dealer for more details)
PERFORMANCE OPTIMIZATION
SETTLING TIME
The HYDRA TYPHON QR is treated with Shunyata Research's exclusive KPIP process.  This eliminates much of the drama involved in the burn-in process. The Typhon is constructed using massive wiring and heavy duty contacts throughout.  Allow a few days settling time of continuous operation for best performance.
MOUNTING PLATFORMS
Ideally the TYPHON QR should be placed on a proper shelf, amp stand or solid platform.  A heavy plank of hardwood or a granite slab also works well.
CONES AND FOOTERS
The TYPHON QR includes Shunyata Research's SSF-50 isolation footer. It was designed specifically to reduce vibration from the underlying platform. You may wish to experiment with other more expensive products.
AC WALL OUTLETS
It is strongly recommended that you replace the wall outlet with a high quality commercial grade unit. The standard wall outlet is usually not ideal for high current applications. There are many audiophile grade outlets that are plated with a variety of metals including silver, gold, rhodium and others. These do not provide significant improvement over a quality commercial grade outlet.  The Hubbell model 5362 or Shunyata Research's SR-Z1 derivative of it is recommended.
OTHER POWER COMPONENTS
Using the TYPHON QR in conjunction with other power distributors, conditioners or regenerators is strongly discouraged. Connecting power conditioners in series usually gives unpredictable or poor results. Conditioners and regenerators can be highly reactive and may degrade the performance advantages built into the TYPHON QR.
CONTACT ENHANCEMENT FLUIDS
Contact fluids, pastes and gels are NOT recommended for use with this unit. Many of these types of products leave a residue that can contaminate or damage the contact metals over a period of time. The products labeled as silver-bearing grease or silver impregnated silicon are particularly harmful. Some of these are difficult or impossible to remove. Damage caused by these products will void your warranty! Never attempt to clean the contacts inside the outlets. If you wish to clean the external contacts, use CAIG DeoxIT® and DeoxIT® GOLD.
---
TECHNOLOGY
DTCD® DESIGNED (Dynamic Transient Current Delivery)
The Typhon QR was designed using the DTCD®  measurement analyzer.  DTCD® Analysis is a technique that measures instantaneous current through low impedance electrical conductors and contacts.  Shunyata Research uses it to optimize the design, specification and construction of parts and materials to ensure maximum current delivery performance.
‌QR/BB™ and NIC™ NOISE REDUCTION
The NIC™ (Noise Isolation Chamber) is a patented technology that reduces high frequency power line noise.  NICs™ use a non-reactive ferroelectric substance that actually absorbs high frequency noise. This allows HYDRA power distributors to reduce noise without any of the negatives associated with conventional power conditioner designs.  QR/BB™ is a patented technology that improves system dynamics especially when used with high powered amplifiers.
‌HYDRAULIC ELECTROMAGNETIC BREAKER
Common power conditioners use fuses or thermal breakers for over-current protection.  Those devices may cause voltage drops, increased contact impedance, thermal noise, excessive heat generation and current limiting effects when heavily loaded.  The Typhon uses a more advanced solution called a hydraulic electromagnetic breaker that can operate right up to the maximum current level without the limitations of fuses or thermal breakers.
ArNi® CONDUCTORS
Shunyata Research has developed its own proprietary ArNi® conductors.  They are made using the highest grade certified copper available (OFE C10100 / Certified ASTM F68).  ArNi® conductors are arrayed in a "hollow tube" VTX™ geometry.  Then, they are treated with the Kinetic Phase Inversion Processor (KPIP™) for a period of 2 days.
SSF-50 SHUNYATA FOOTER
The SSF-50 is standard equipment on the Typhon QR. Power distributors react very similar to amplifiers in relationship to floor-borne vibration. Shunyata Research tested dozens of the commonly available feet and determined that none of them were adequate for use with Shunyata Research products. After researching multiple forms of energy dissipation methods, the SSF-50 was developed, providing the performance characteristics of an expensive after market footers without the exorbitant cost.
VIBRATION MANAGEMENT
The Typhon chassis is made with heavy gauge steel and aluminum.  Shunyata Research has developed exclusive vibration reduction strategies and vibration reduction panels that measurably reduce resonant vibration levels.
---
SPECIFICATIONS
Maximum Voltage:
– Voltage input range: 90-250 V~
– Maximum input voltage: 250 V~
– Voltage output range: 90-250 V~ unregulated

Transient Suppression: Maximum transient pulse @ 8/50 μs: 40,000 A

Over-Current Protection: Hydraulic electromagnetic breaker

Sigma Typhon Umbilical Cable:
– AC plug: IEC-C20
– AC connector: IEC-C19
– Wire: 2x 6 gauge line, 1x 8 gauge ground

Chassis Connectors:
– Inlet: IEC-C20
– Outlet: IEC-C19

Dimensions:
– Width: 17-1/4 in (43.8 cm)
– Depth: 17-1/8 in (43.5 cm)
– Height: 6 in (15.3 cm)
– Weight: 42 lb. (19.0 kg)

Current Ratings:
– Maximum continuous current (US): 20 A
– Maximum continuous current (EU, AU, UK): 16 A
– Maximum instantaneous peak voltage @ 8.33 ms: >2500 V~
– Maximum instantaneous peak current@ 8.33 ms: >1000 A

Noise Reduction Technology:
– NIC™ Noise Isolation Chambers (patented)
– QR/BB™ Module (patented)

Wiring System:
– 6 Gauge ArNi® Conductors
– VTX Conductor Geometry
– OFE C10100 Copper

Vibration Control:
– Vibration dampening panels (internal)
– AC outlet dampening gaskets
– Shunyata Isolation SSF-50 Footer

Construction:
– Powder coated steel chassis – 16 gauge
– Anodized aluminum faceplate
Over more than 2 decades, the reliability and durability of Shunyata Research products has become a legendary attribute of the brand.  Shunyata products are completely non-reactive and run cool to the touch.  They do not hum, vibrate, buzz, or generate heat and do not require any ventilation. Despite heavy-use applications in studios, medical labs, and home environments, Shunyata Research products maintain an almost zero failure rate.
In an era of products that are mass-produced, Shunyata Research invests in training career craftsman who build our products by hand at our factory in Poulsbo, Washington. The exceptional fit, finish, and attention to detail has become a hallmark trait of Shunyata Research products going back to its inception in 1998. Shunyata Research has been building some of the finest power and cable products in the industry for more than twenty years. The commitment to building durable products that are designed to last a lifetime elevates our products to the top of their class.
Safety and quality control is job one at Shunyata Research. Before anything leaves the factory, we test each and every product thoroughly and carefully for safety and quality. This explains the long-term success of Shunyata Research products in the professional recording, medical, scientific, and consumer industries. Shunyata Research's impeccable product safety and reliability track record for the past 23 years speaks for itself.
NO HUM — NO BUZZ — NO HEAT
LIMITED LIFETIME WARRANTY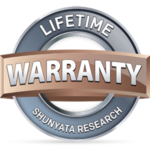 The unparalleled craftsmanship and build quality of Shunyata Research products is backed by a limited lifetime warranty. This demonstrates our commitment to building the finest products on the planet and providing exceptional customer support.
VALID ONLY IN THE US AND CANADA