HYDRA TYPHON
NO LONGER AVAILABLE
Product is no longer available.
Shunyata Research's HYDRA TRITON power distributor was originally conceived as a reference caliber power distributor that bore no compromise in design scale or performance. As the project evolved, the TRITON's size and cost escalated beyond practical limits. The file-cabinet sized prototype was temporarily shelved while options were considered to reduce the unit's massive one-box size and projected price. Designer Caelin Gabriel created a solution by splitting the original TRITON design into two units. The first chassis would house a stand-alone eight outlet Reference power distributor. The second chassis of equal size and greater weight, would plug into the base unit and function in parallel. This would complete Gabriel's original vision for an ultimate performance power distributor.
With years of experience behind us, we are proud to have developed patented technologies and custom-designed parts that form the cornerstone of Shunyata Research products.
Within the TYPHON's TRITON-size case are two massive Noise Isolation Chambers (NICs). These cylindrical chambers take up the entire space within the TYPHON's chassis and account for the majority of the TYPHON's 43 pound weight. Each NIC contains an enormous volume of Shunyata's patented ZrCa-2000 compound, which absorbs and dissipates high-frequency noise. Shunyata's hollow-core VTX™ wiring, culled from ultra-pure OFC copper, runs through the chambers and connects to the IEC at the back of the TYPHON. In essence, the TYPHON is a purpose-built slave unit for the Hydra TRITON.
---
APPLICATIONS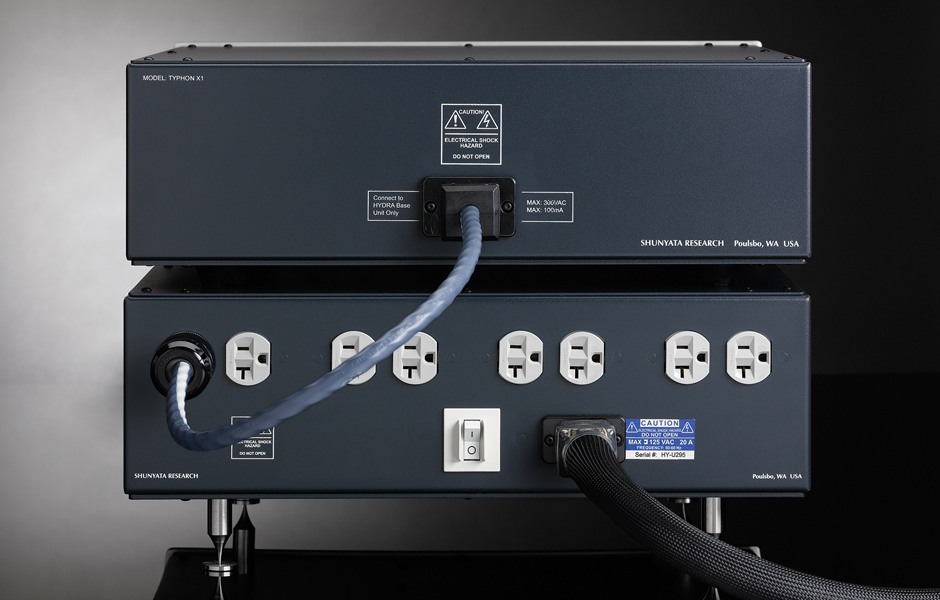 When connected to the TRITON, the HYDRA TYPHON triples the volume of the Noise Isolation Chambers (NIC) within the TRITON. The TYPHON/TRITON system reveals spatial and low-level detail information that no other product or combination of products can equal. This is not a subtle effect but one that uncovers recorded information otherwise obscured or buried in the noise floor. Unintelligible words, blurred instrumental passages or missing ambient information become clear as if for the first time. Although the TRITON has been critically acknowledged for reproducing state-of-the-art scale and micro-dynamic contrasts in sound, the TYPHON further solidifies instruments, voices and images as vivid three dimensional characters within the recording. HYDRA TYPHON dramatically expands the perceived volume of recorded space within a recording. Lateral and depth of field information emerge surrounded by spatial information that perfectly recreates the venue in which the recording was created.
How to connect a TYPHON
The TYPHON requires a dedicated umbilical power cord designed specifically to connect it to the TRITON Power Distribution Unit. A good quality TYPHON umbilical will be offered at a nominal cost. However, for optimal performance we highly recommend choosing an optional high-performance umbilical cord. One that matches the power cord that was selected to connect the TRITON to the wall outlet. As is the case with all electronic components, the TYPHON responds dramatically to improved power-connection science such as the technology used in Shunyata's Reference power cords. Your dealer can offer several options that can be supplied with the TYPHON at additional cost.
The connection method for the TYPHON to the TRITON will be to plug the TYPHON power cord into one of the TRITON's unused outlets. If all outlets are in use, it is best to use a simple power strip or Shunyata's own PS8 power strip to connect less critical components so that you can use a primary outlet for the TYPHON.
How to evaluate a TYPHON
Due to the fact that the TYPHON works in parallel and not in-series with the TRITON there are a few specifics that should be followed when evaluating a TYPHON's performance when connected to a TRITON.
Settling Time: Since the TYPHON does not carry the current load (the TRITON does) — it does not require burn-in per se but it does require a settling period. Simply plug the TYPHON into the TRITON and it will reach its full potential in about 5 days. We do not recommend critically evaluating the TYPHON before this settling period is complete.
Making the connection: Do not plug in and unplug the TYPHON in rapid succession for short listening or viewing samples. This will not accurately convey the performance effects of the TYPHON-TRITON system. The TYPHON's effect on performance becomes obvious once it is disconnected from the TRITON after being connected for several hours or days, rather than upon it's initial connection. This is a function of the gradually increasing effect of the TYPHON's NICs once they are connected in parallel to the TRITON.
---
SPECIFICATIONS
Input / Output Voltage:
– US Max Input: 125-240 V~
– US Output: 90-240 V~ unregulated
– EU Max Input: 240 V~
– EU Output: 90-240 V~ unregulated

Over Current Protection: Hydraulic electromagnetic breaker

Sockets / Connectors: 
– Inlet: IEC 320 C20
– Outlet: IEC 320 J Outlet

 Technology:
– NIC™ v2 (Patented)
– QR/BB™ Technology (patent pending)

Construction:
– 16 Gauge Powder Coated Steel Chassis
– Anodized Aluminum Faceplate
– Vibration Dampening (internal)
– AC Outlet Dampening Gaskets
– Shunyata's Isolation Footer

Current Ratings:
– US: Max current: 20 Amps (continuous)
– EU: Max current: 16 Amps (continuous)
– Peak instantaneous current: >100 Amps @ 8.33ms

Transient Suppression: none

 Wiring System:
– 6 gauge VTX conductors
– OFE C10100 Copper (Certified ASTM F68)
– KPIP Processed

Noise Suppression:
Line-outlet: > 15db (200 kHz – 30 MHz)
Over more than 2 decades, the reliability and durability of Shunyata Research products has become a legendary attribute of the brand.  Shunyata products are completely non-reactive and run cool to the touch.  They do not hum, vibrate, buzz, or generate heat and do not require any ventilation. Despite heavy-use applications in studios, medical labs, and home environments, Shunyata Research products maintain an almost zero failure rate.
In an era of products that are mass-produced, Shunyata Research invests in training career craftsman who build our products by hand at our factory in Poulsbo, Washington. The exceptional fit, finish, and attention to detail has become a hallmark trait of Shunyata Research products going back to its inception in 1998. Shunyata Research has been building some of the finest power and cable products in the industry for more than twenty years. The commitment to building durable products that are designed to last a lifetime elevates our products to the top of their class.
Safety and quality control is job one at Shunyata Research. Before anything leaves the factory, we test each and every product thoroughly and carefully for safety and quality. This explains the long-term success of Shunyata Research products in the professional recording, medical, scientific, and consumer industries. Shunyata Research's impeccable product safety and reliability track record for the past 23 years speaks for itself.
NO HUM — NO BUZZ — NO HEAT
LIMITED LIFETIME WARRANTY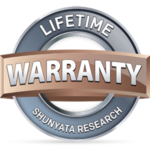 The unparalleled craftsmanship and build quality of Shunyata Research products is backed by a limited lifetime warranty. This demonstrates our commitment to building the finest products on the planet and providing exceptional customer support.
VALID ONLY IN THE US AND CANADA