HYDRA DPC-6 v3
NO LONGER AVAILABLE
Product is no longer available.
HYDRA DPC-6 is the first HYDRA designed specifically to optimize the performance of digital media-server entertainment systems. Components such as digital servers, routers, disk-arrays, transports, computers and digital media centers can put out a significant amount of digital noise and often have inexpensive 'switching' power supplies that have poor power filtration built-in. The HYDRA DPC-6 electrically isolates (firewalls) these devices and prevents them from polluting the audio components on the power line.
The DPC-6 features a Shunyata Research developed digital filter that dramatically reduces the digital hash and noise that is commonly associated with digital media playback. The DPC-6 is also quite effective when used with digital video components.
The DPC-6 may be used with reference grade power distributors like the TRITON, DENALI or VENOM PS8. Plug your preamplifiers, tuners, tape decks and amplifiers into the standard HYDRA power distributors and plug the digital devices into the DPC-6. This effectively isolates the digital components preventing them from polluting the rest of the audio system.
The HYDRA DPC-6 is specifically designed for use with computer media components such as:
– Computer
– Monitor
– Disk array
– Digital-to-digital converters
– Video processors
– Network devices
ISOLATION ZONES 
An AC duplex consists of two outlets. Each duplex has a dedicated isolation filters that reduce noise from the adjacent components. For best performance, connect each component to a separate duplex if possible. Group the components by function, if there are more than three components. For example: Connect a computer and monitor to Zone 1, the disc drive and router to Zone 2 and the digital converters to Zone 3.
NOTE: DACs and ADCs may perform best when plugged into a standard HYDRA or into the DPC-6 depending upon the specific component. We recommend that you experiment for best results. All outlet duplex's on the DPC-6 are independently filtered and isolated so it does not matter which components plug into specific outlets on the HYDRA DPC-6.  All are equally isolated from one-another and from the rest of the music/video system.
---
TECHNOLOGY
SDC
The Shunyata Digital Coil was developed after years of research by Caelin Gabriel. It is unique in that it simultaneously provides common mode and differential mode noise reduction. It is a custom- wound, single lay, air core design made with Shunyata Research's exclusive OFE C10100 power wire.
‌CCI™ NOISE REDUCTION
Traditional power conditioners are designed to block noise coming in from outside the home but do not address the noise that is generated by the electronic component's themselves. In fact, most conditioners reflect noise back into other components connected to the power conditioner. ‌CCI™ (‌Component-to-Component Interference) is one of the most significant but often overlooked aspects to power system performance. The Shunyata Research designed ‌CCI™ filter consists of a proprietary multi-stage filter that reduces RFI and power supply generated interference.
MPDA Filter
The MPDA (multi-phase differential array) is a complex surface mount circuit that significantly reduces power-line noise without the audible or visible side-effects normally associated with conventional capacitive and inductive approaches.
‌CopperCONN™ OUTLETS
All commercial grade connectors and virtually all audiophile grade connectors are made from brass or bronze base metals. Some audiophile grade connectors may get a plating of nickel, silver, gold or rhodium that is only a few millionths of an inch thick. The Shunyata Research ‌CopperCONN™ is constructed using solid, high purity, oxygen free copper as the base metal with a ash coating to protect the copper from oxidation. The ‌CopperCONN™ outlets and connectors are designed to provide superior grip strength and contact integrity. This contributes to a measurable improvement in DTCD® (Dynamic Transient Current Delivery) performance and a correspondingly obvious difference in audible performance.
‌VTX™ CONDUCTORS
Shunyata Research's exclusive ‌VTX™ conductors are virtual tubes. The core of the conductor is completely hollow, electrically, so that all of the current travels through the circumference of the conductor eliminating skin effects and random eddy currents through the conductor. The ‌VTX™ conductors are produced with OFE-C10100 copper which is the highest purity copper available.
VIBRATION MANAGEMENT
The HYDRA DPC-6 chassis is made with heavy gauge steel and aluminum. Shunyata Research has developed exclusive vibration absorbing AC outlet gaskets and chassis dampeners that measurably reduce resonant vibration levels.
L.E.D. Fault Indicator
Includes an L.E.D that indicates the condition of the surge circuitry.
---
SPECIFICATIONS
Input / Output Voltage: 
– US Max Input: 240 V~
– US Output: 90-240 V~ unregulated
– EU Max Input: 240 V~
– EU Output: 90-240 V~ unregulated

Over Current Protection: Hydraulic electromagnetic breaker

Sockets / Connectors: 
– US: 6 NEMA 5-20R (3-pin, 20A)
– EU: 6 'Euro' CEE 7/3
– IEC 60320 C20

Technology:
– SDC Filter (Shunyata Digital Coil)
– 3 CCI™ v3 Noise Filters
– Trident v3 Module

Construction:
– 16 Gauge Powder Coated Steel Chassis
– Anodized Aluminum Faceplate
– Vibration Dampening (internal)
– AC Outlet Dampening Gaskets
– Shunyata's Isolation Footer

Current Ratings:
– US: Max current: 20 Amps (continuous)
– EU: Max current: 16 Amps (continuous)
– Peak instantaneous current: >100 Amps @ 8.33ms

Transient Suppression:
– NextGEN TMOV Transient Protection
– 40,000 Amps @ 8/50μs

Wiring System:
– 12 gauge VTX conductors
– OFE C10100 Copper (Certified ASTM F68)
– KPIP Processed

Noise Suppression:
Line-outlet: > 30db (200 kHz – 30 MHz)
Outlet-outlet: > 40db (200 kHz – 30 MHz)

Dimensions:
– Width: 17.25 inches (43.8 cm)
– Depth: 17.125 inches (43.5 cm)
– Height: 6 inches (15.3 cm)
– Weight: 40 lbs (18.2 kg)
Over more than 2 decades, the reliability and durability of Shunyata Research products has become a legendary attribute of the brand.  Shunyata products are completely non-reactive and run cool to the touch.  They do not hum, vibrate, buzz, or generate heat and do not require any ventilation. Despite heavy-use applications in studios, medical labs, and home environments, Shunyata Research products maintain an almost zero failure rate.
In an era of products that are mass-produced, Shunyata Research invests in training career craftsman who build our products by hand at our factory in Poulsbo, Washington. The exceptional fit, finish, and attention to detail has become a hallmark trait of Shunyata Research products going back to its inception in 1998. Shunyata Research has been building some of the finest power and cable products in the industry for more than twenty years. The commitment to building durable products that are designed to last a lifetime elevates our products to the top of their class.
Safety and quality control is job one at Shunyata Research. Before anything leaves the factory, we test each and every product thoroughly and carefully for safety and quality. This explains the long-term success of Shunyata Research products in the professional recording, medical, scientific, and consumer industries. Shunyata Research's impeccable product safety and reliability track record for the past 23 years speaks for itself.
NO HUM — NO BUZZ — NO HEAT
LIMITED LIFETIME WARRANTY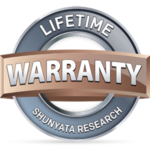 The unparalleled craftsmanship and build quality of Shunyata Research products is backed by a limited lifetime warranty. This demonstrates our commitment to building the finest products on the planet and providing exceptional customer support.
VALID ONLY IN THE US AND CANADA